Introduction and Interface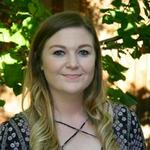 Updated by Anya
Conversations are a core feature of TABLE. They power 2-way and group collaboration between businesses and their customers through the use of live chat, voice, video, and screen-sharing in a single messenger-based interface. Agents can access all Conversations in a single view on web or on our mobile apps for Android and iOS. Customers can access their Conversations through a chat widget on your website, mobile web interface, via a shared link, or as a notification sent by email.
Agent Interface
The Conversation interface contains four columns including Filters, the Conversation List, the Conversation, and a dynamic fourth panel for other features.
--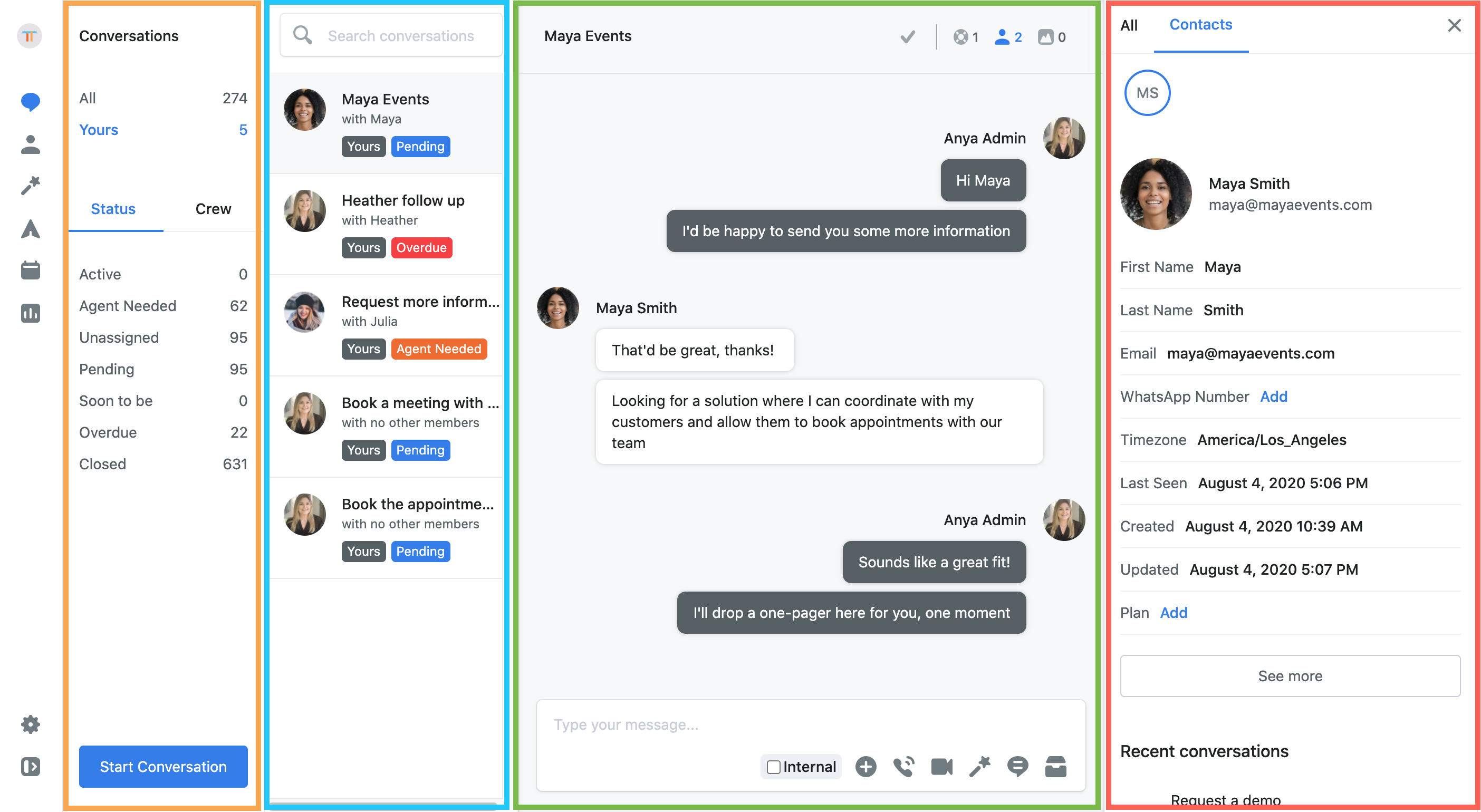 Conversation Filters: In the orange section, you can filter by Crew and Status to focus on the Conversations that matter to you.
Conversation List: In the blue section, you'll find the list column showing the most recent Conversations with your filters applied, including the conversation status, people included and time since last activity on the conversation.
The Conversation: In the green section, the Conversation shows the message stream, a popup for voice and video calls, the message box, and all actions available to an Agent as icons.
Sidebar: When opened, the panel in the red section contains a dynamic sidebar that shows different information about the Conversation when the icons at the top of the Conversation are selected. The Service icon shows the Agents who have joined this Conversation and the Crews that have been requested. The Contacts icon shows a log of all the Contacts (customers) in the Conversation and details about each including their attributes, recent Conversations, and recent browsing activity. The Media icon allows Agents and Contacts to easily access all the media (files, images, etc.) that has been sent within the Conversation. Some TABLE customers with our Retail API or custom applications can see additional sidebars including a Product List or Saved Items view.
Customer Interface
Customers may have different Conversation views depending on where they are interacting with your team. Customers who click on a link or email notification will access Conversations from a full screen chat window with a secure URL. The customer user interface is similar to the Agent interface with less internal options.
--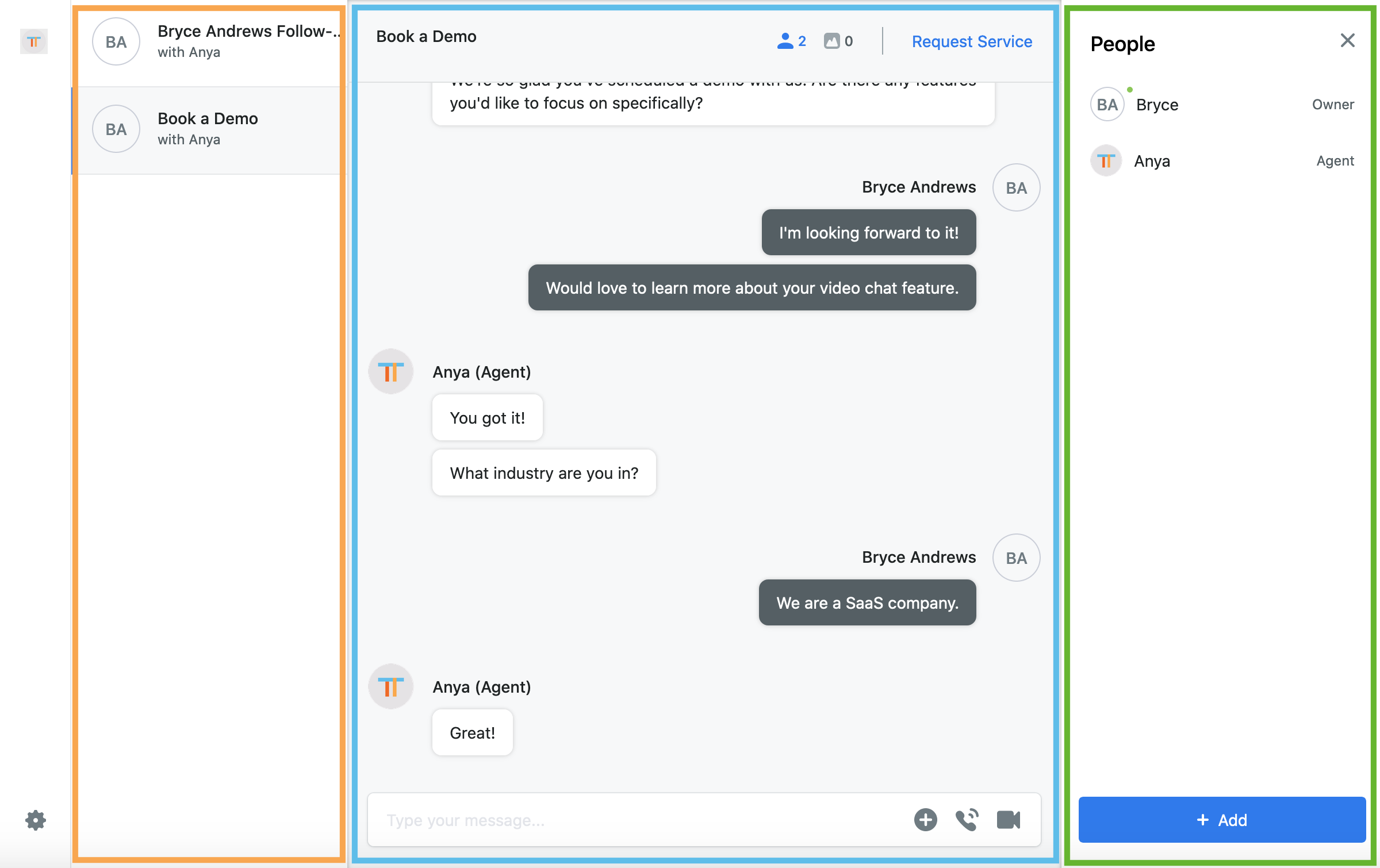 --
Conversation List: In the orange section, this list on the left will show all Conversations a customer has with your company. 
The Conversation: In the blue section, Customers will have a similar Conversation view as the Agent. They can see the message stream, access collaboration features including file sharing, voice and video calls.
Sidebar: In the green section, customers can open popups to view and add Contacts, Request Services (if enabled), and access any attached media files. 
Live Chat Widget
Customers can also start Conversations from a chat widget on your site or in your app. 
-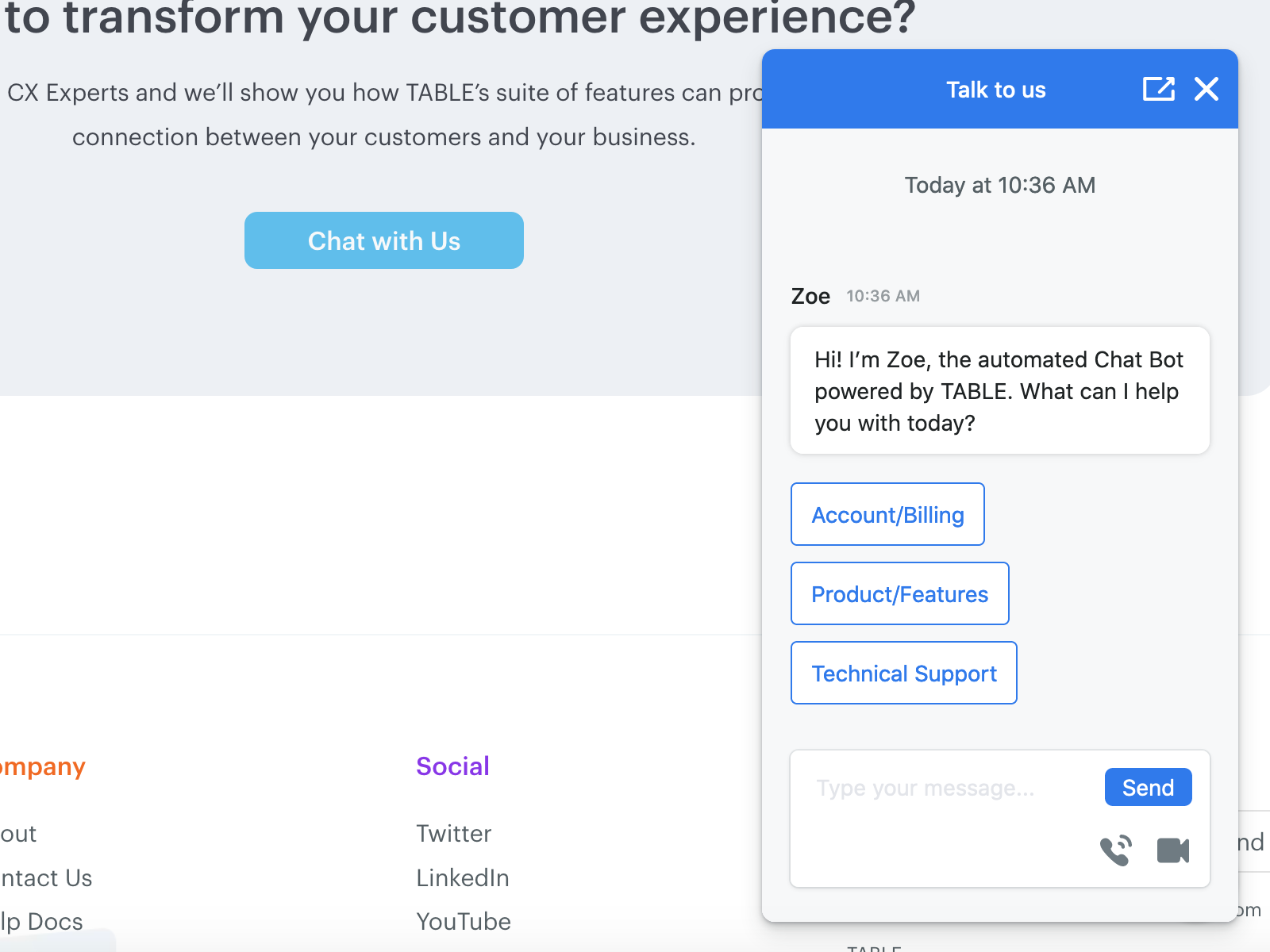 --
This live chat experience includes text chat, voice, and video calling. They can click on the full screen icon on the top right to open the Web version of TABLE.--