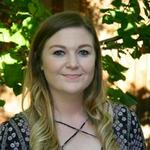 Updated by Anya
Filters
TABLE offers several ways to help your team organize and manage Conversations. Filters for All and Your Conversations allow each Agent to focus on the Conversations that matter the most to them. Agents can also filter Conversations based on Status (more on Statuses below) or Crew. 
Filter by Status
--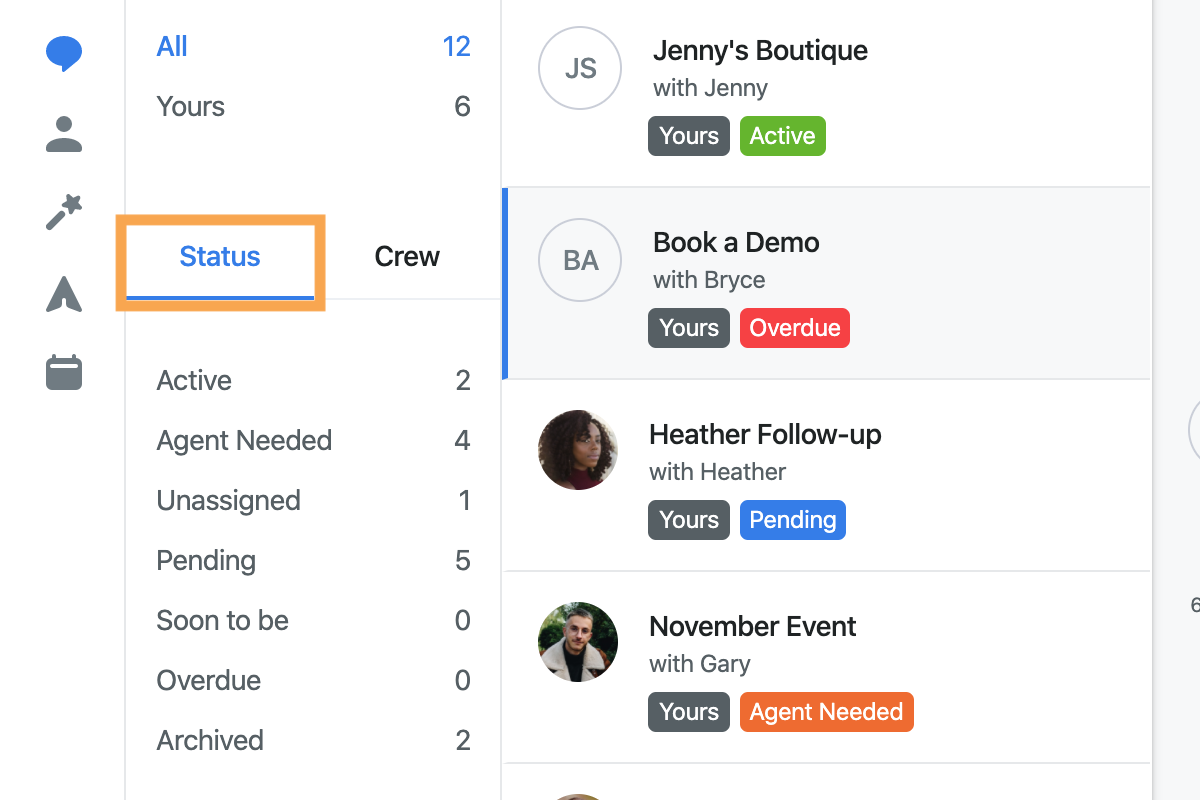 Easily filter the Conversation List by clicking on the Status tab and selecting the Status you'd like to view. Learn more about each Status here.
Filter by Crew 
--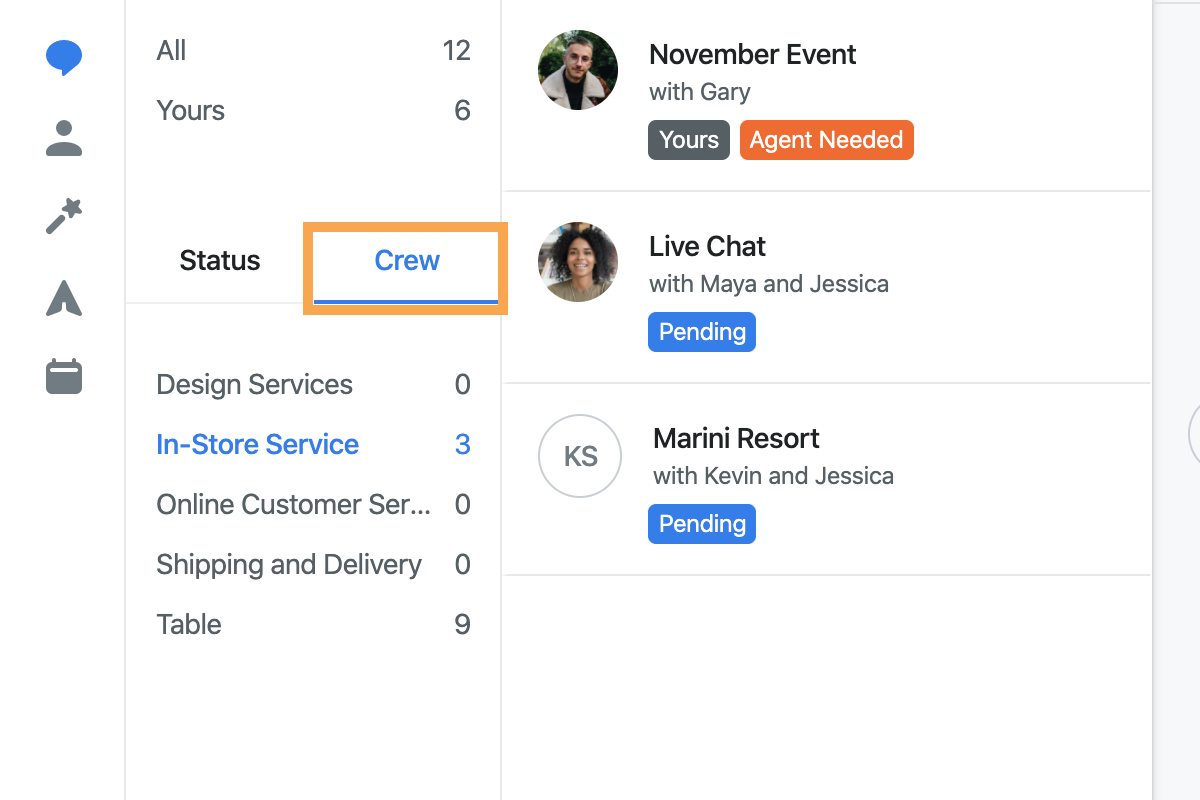 An Agent's Conversations List can be filtered based on the Crew that was originally requested by the customer.  Select the Crew Tab and then select the Crew.
Filter by Yours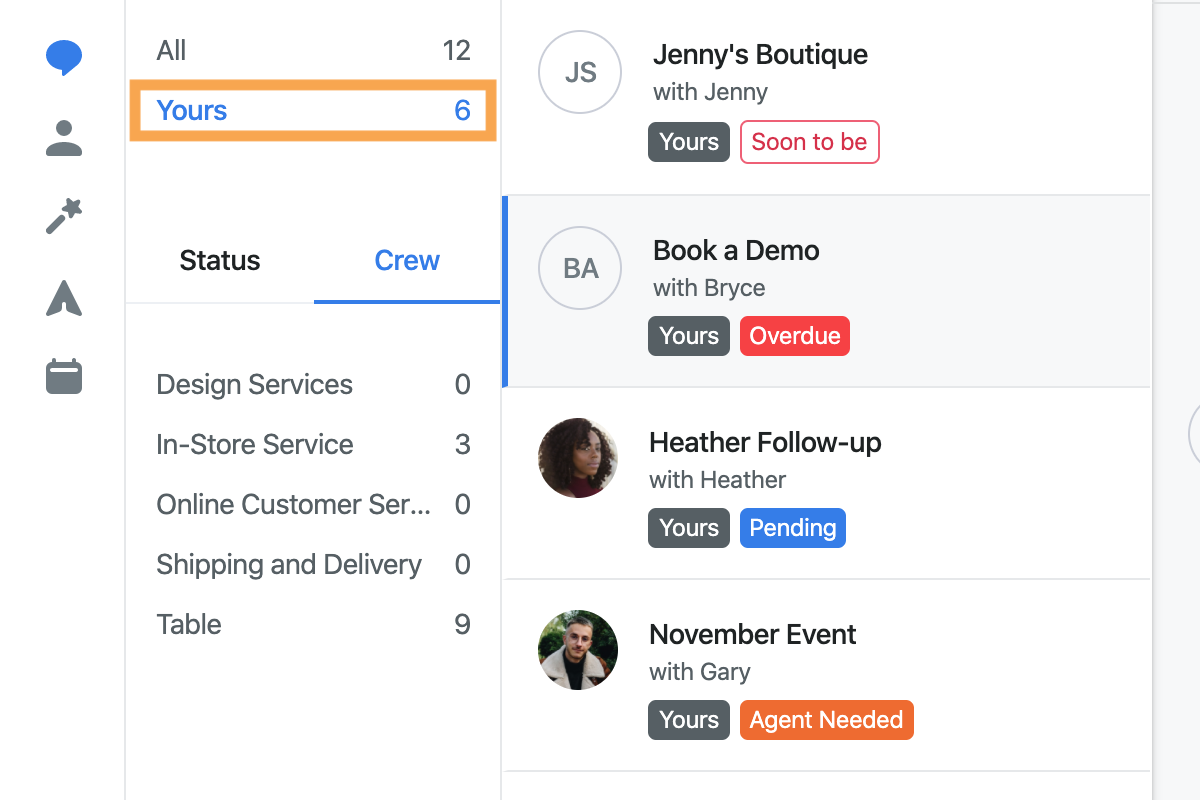 To display only the Conversations that you are a part of, simply click the Yours button.
Conversation Statuses
Statuses reflect the last action that was taken within a Conversation so Agents can easily determine which ones need immediate attention or take priority. Using the filter menu, you can filter by these statuses so only Conversations that fall into the selected status appear in the List.
--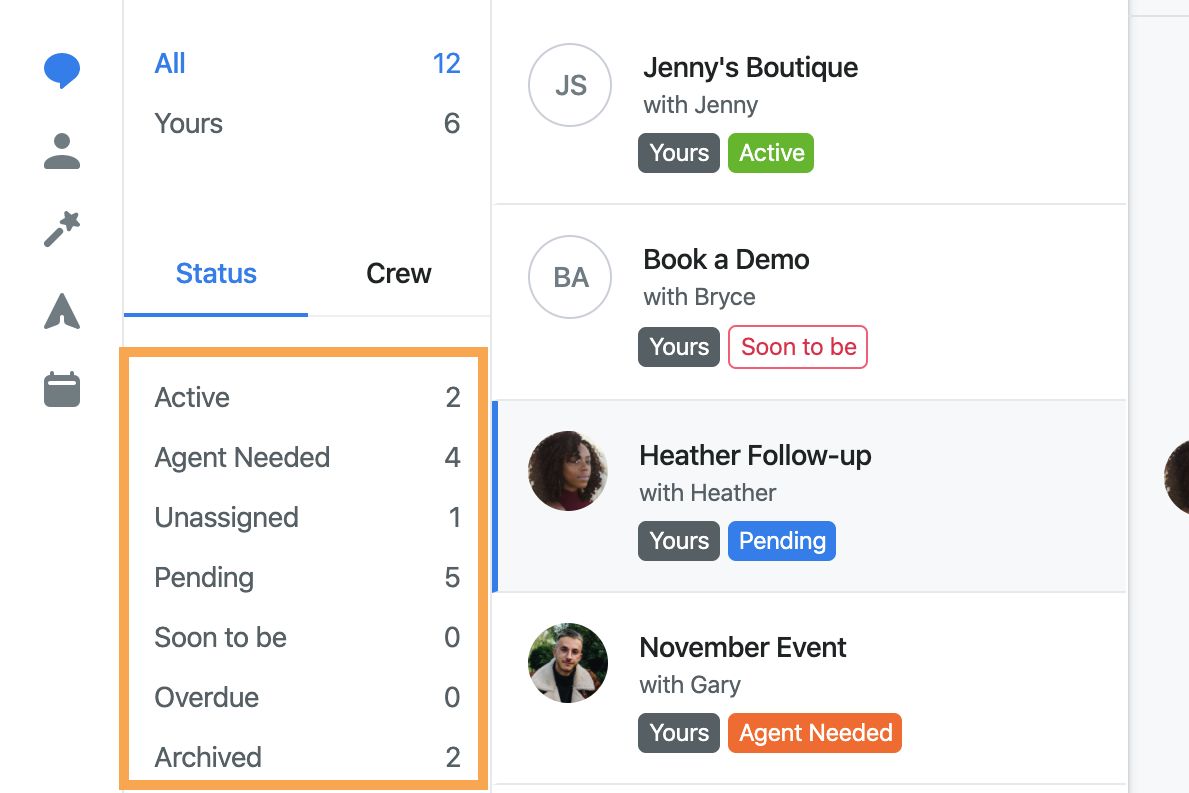 --
The definition of each status is explained below: 
Active: A Conversation is categorized as "Active" as soon as a customer completes an action, such as sending a message, completing a payment field, or appointment booking flow, up until the Soon To Be Overdue time (see below). 
Agent Needed: This status appears when a customer has requested assistance from a Crew and no Crew member has joined the Conversation yet. This can occur when your customer reaches an "Add Service" step in your Experience, or if they use the Request Service button to call in a Crew. 
Unassigned: Conversations where an Agent has not been added by the Experience, or if all Agents have been removed. This commonly occurs with a new Conversation when your Bot is still interacting with a Customer.
Pending: A Conversation where the last one to be present is the Agent. If an Agent acknowledges a customer's message by opening the Conversation or sending a message, then the status becomes Pending until the customer sends another message.
Soon to be Overdue (STBO): When creating Crews, Admins set an amount of time for the Agent to respond, acknowledge a customer's response, or respond to an "Agent Needed" request before the Conversation is classified as Overdue. The STBO is a warning that the Conversation is about to become Overdue. 
Overdue: This is when the Agent has not acknowledged a customer's message or "Agent Needed" request in the predetermined amount of time set for the Crew, signaling that the customer has waited too long for a response.
Closed: Conversations that are inactive or no longer relevant can be archived in the "Closed" status to keep your Conversations list current and up to date. This Conversations are only accessible in the "Closed" status and will no longer show up in the All section or any other status. To learn more about closing Conversations click here.